STITCH for RMG Global Innovation Challenge
Program Year: 2021
Bangladesh is an export-oriented country, and the ready-made garment (RMG) sector accounts for 83 percent of it, employing four million people, with 59 percent of those being women. As globalization continues to transform day-day life, a reliance on traditional production methods has caused the country to fall behind in global competitiveness.
The H&M Foundation has launched a collective impact initiative for female textile workers in Bangladesh to equip female textile workers for a more automated and digital work environment. Serving as a backbone organization, The Asia Foundation is helping to facilitate project activities by following a collective impact approach. The initiative is divided into three phases: disaster relief, future of work pilots, and the collective impact phase.
The collective impact partners have identified specific areas in the RMG industry of Bangladesh that necessitate urgent intervention. In June 2021, BRAC held STITCH for RMG: Global Innovation Challenge, inviting innovators from around the world to propose possible solutions to two critical questions under five representing themes. The Global Innovation Challenge welcomes any team around the world with strategies to strengthen the livelihoods of Bangladeshi Women in the RMG sector. Apply by November 25 to receive a grant of up to $30,000.
/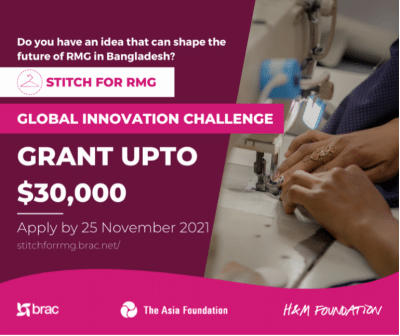 Visit the Stitch for RMG website for more information.
Leaders on the Frontlines:
Leaders for a Better World
Highlights from the event